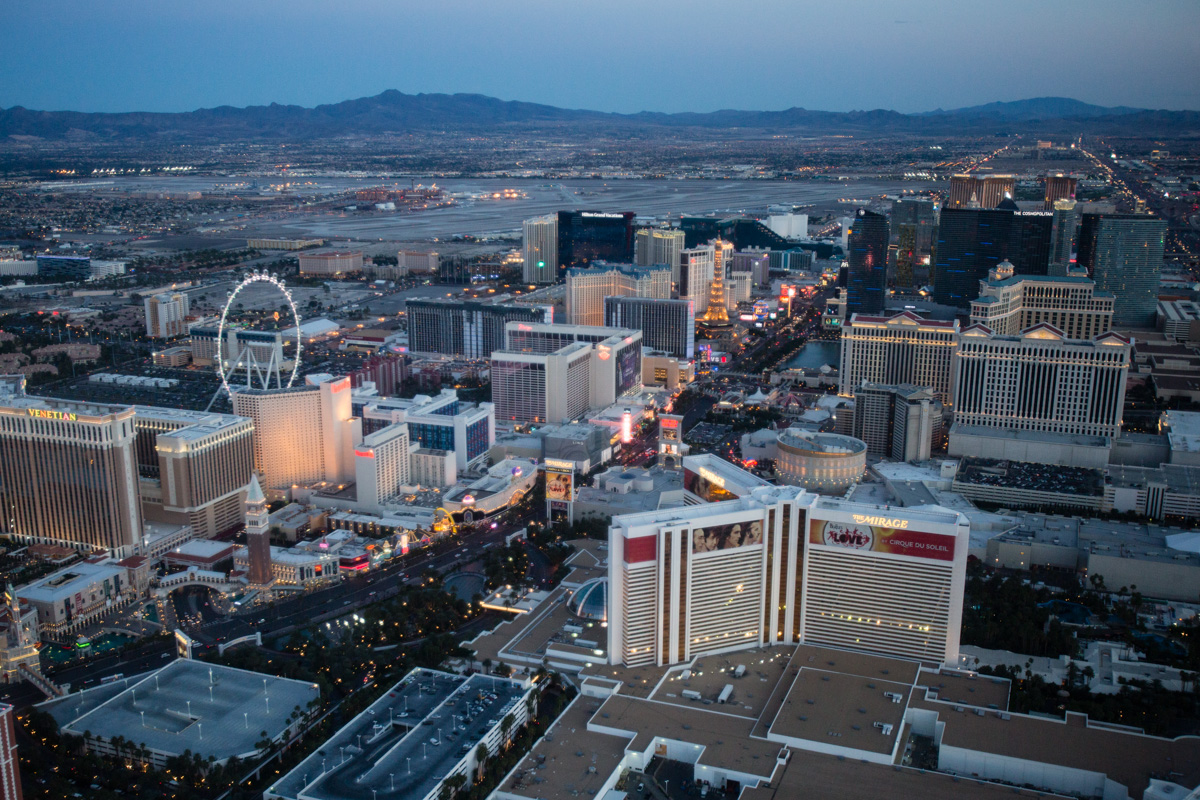 Viva Las Vegas
For me personally one of the top 3 cities during this trip. Everything about the city lived up to the expectations, the lights, the people, the casinos and of course the famous strip. Perhaps not New Orleans-crazy, but it definitely had it's own flavor of crazy.
We started off with a late morning testing the swimming pool where we parked and took the free shuttle bus in to the city. We started off strong and had a very good burger at country singer Toby Keith´s "I love this bar and grill" inside the Linq Casino. Moving on to the next couple of casinos four of us had a secret plan for the fifth, but more about that later. We visited most of the big casinos, famous from movies like Caesars Palace in The Hangover.
The casinos are as big as you can imagine, they don't have windows and have excellent air conditioning in the hot desert heat, even in May it gets pretty hot. They do allow smoking inside, so its cool but a little stuffy. Servers walk around serving drinks to the players while they play, and everything has lights that blink all the time. Spread out in between the casinos you can find the most expensive brands for clothes and accessories available. Some casinos are built like a maze, keeping guest from ever leaving, or accidentally get out of the casino (Bellagio, you pompous labyrinth of expensive "no thank you"…).
As we were passing a area named New York New York, the area made to look like New York city, the time for our surprise and scheduled pickup was approaching fast. We still had some time to go, and we had to make it to the Luxor Casino before 18:20. We started making up excuses to why we should go there, trying not to spoil the surprise for Marius, who was going to have his 30th birthday a few days later. This was our gift. We walked briskly towards the Luxor to get to our pickup point, which was a bit tricky to locate, as Luxor is gigantic. Marius didn't know anything what was going on. Finally we found the correct pickup point, and made up new excuses why we couldn't go inside just yet, like how our feet was hurting and we just needed a break right there and then. After some time a black limousine rolled up, the driver opened the doors for us, and with some hesitation (and promises of no strippers), Marius climbed inside. What he didn't know was that the limousine would take us to the airport where Jonas had planned to take Marius on a helicopter tour around the Hoover Dam, Lake Mead, and end up flying over the Strip at sundown.

Moving on we had more beers and drinks at PBR Rock Bar & Grill with a great view of the strip and Planet Hollywood, Bellagio, Caesars Palace and the Mirage. After some more walking around we found a great place called "Off The Strip" that served us some amazing food. Large roasted chicken breast with melted parmesan cheese on top, with pasta and sauce on the side. Jonas had another blue cheese hamburger, because why not, they are delicious. Beers and truffle macaroni and cheese on the side.
Great evening, great city, great people.
-Svenn (with some additions)