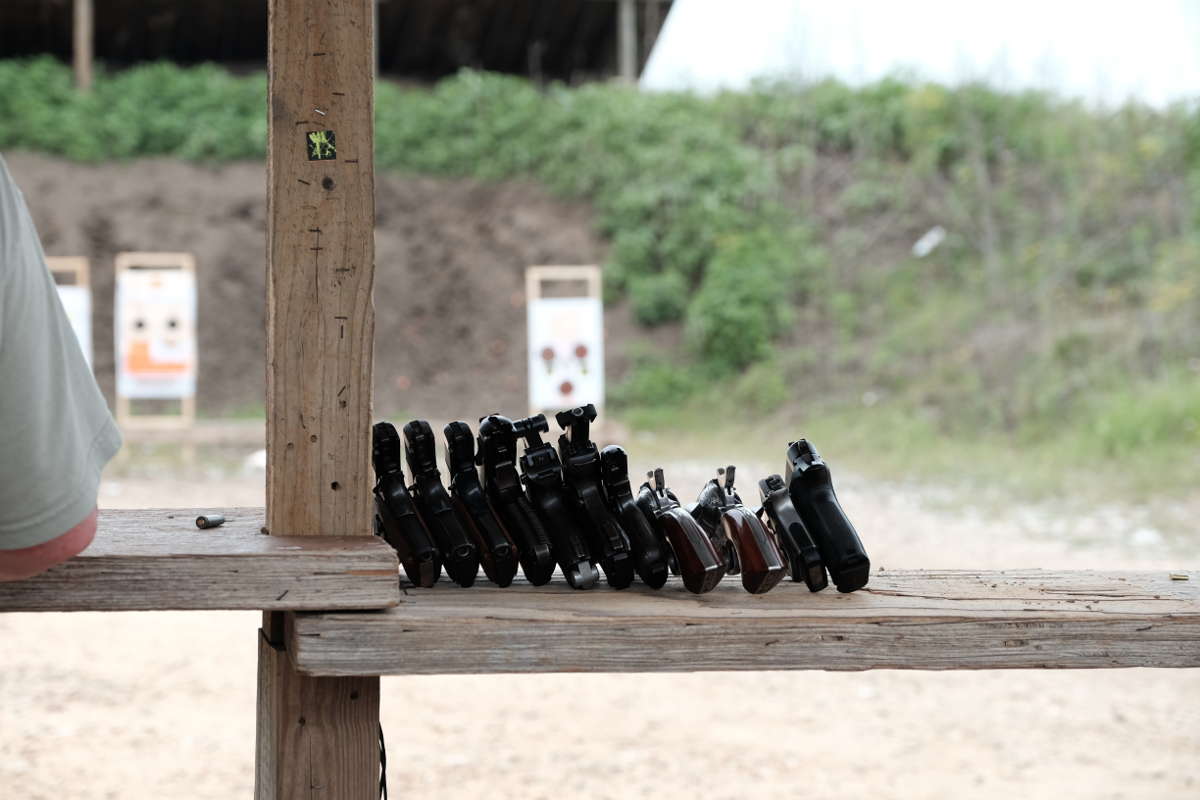 Guns, Texas-style!
Reddit user R_Shackleford invited us to Lonestar Gun Range near Lockhart, Texas, to try a small selection of his guns. We were ecstatic, and he gave us an experience we will remember for a long time!
Sunday the 24th was the day we were invited to go out to a local range near Austin Texas to look at, and test, private firearms of a local man named Mike (aka "R_Shackleford"). He generously invited us out there to the Lonestar Gun Range near the small town of Lockhart, and we spent a good 3-4 hours shooting his private collection. We arrived around noon and Mike shortly after, with about a dozen pistols and around 7 rifles plus ammo. The night before we parked at Walmart to sleep and stock up on supplies. While there we received instructions from Mike on what kind of ammunition we would need the day after. This ranged from smaller 9mm cases to the larger .308 or also known as 7.62×51 NATO rounds.
Walking out after paying with orange juice, milk, snacks and ammunition was a little surreal for us Norwegians, but was perfectly normal for them and we only needed ID to prove our age.
Mike did not skimp or bring out his worst guns, far from it. His collection on the range that day varied from the famous AK-47, a version rare and imported from China, to a genuine German Luger from WWII. Other rifles included the G3, FN FAL, M1 Garand, 1903 Springfield A4, his build of the AR-15 platform with custom stock and grip under the barrel. Other pistols were competition revolvers engraved with a vine design around in the metal and dark wood handles with a shiny finish. Other pistols were the Sig Sauer P226 used by Navy Seals, police and other special forces around the world. He also brought out 3 similar weapons based around the Colt 1911 .45. This, the P226 and the Luger was my favorites that day. Very smooth trigger, easy operation and just enjoyable all around to shoot, and of course the larger .45 caliber packs more punch than the smaller 9mm used in the other guns.
We spent the day shooting mostly to just experience the guns, aiming and hitting a target perfectly was a lower priority, almost all the guns were brand new for all of us so the experience on its own was more than enough. He also brought out a rare Norwegian gun made by Kongsberg in a limited run with only 1000 made and a Swedish pistol made by Husquarna. All very cool and unique in their own way., with their full service history showing them going from the factory to Russia, Germany and in the end the United States.
The best rifle of all was the Springfield M1903 A4 with the authentic WWII scope attached on top in very good condition. The value of this rifle alone was around 10.000USD in good condition and very rare. Just to see this rifle is rare, and even more rare to shoot it, but Mike had no hesitations letting us shoot it. We were sure to be very careful.The rifle is famous from movies such as Saving Private Ryan and the miniseries The Pacific.
All his guns were unique and had its own story, and I can't even remember them all. We had a lot of fun and that was definitely a high point of the trip.
We want to thank Mike for bringing us out there, we couldn't have asked for more.
-Svenn