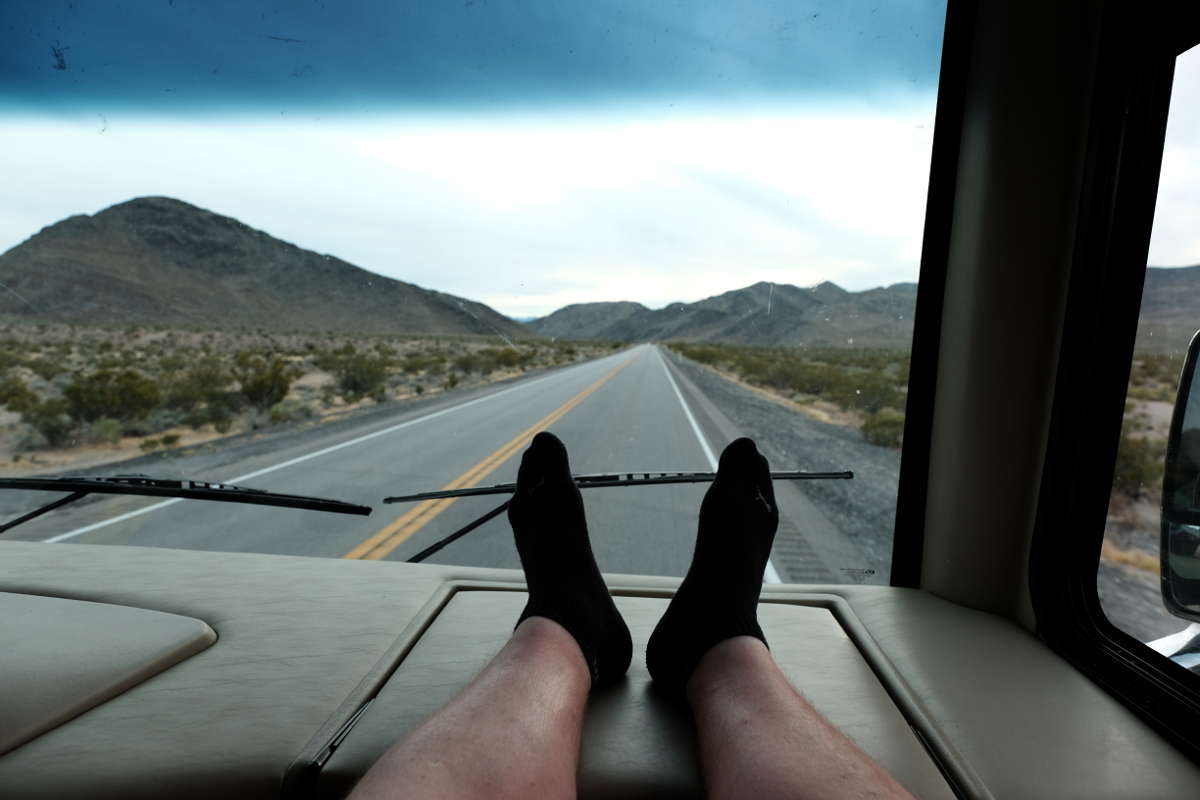 A song of Ice and Fire
Once again on the road, and we all start to see the end of our journey. Just a couple of days left here in the US. Here's a lengthy recap of the last two days. The title of this post comes from the difference between snowball throwing in Yosemite and running around half naked in the heat in Death Valley, all within 24 hours.
Death Valley
After a hot detour to the Hoover Dam by car, and a quick (some of us will dispute this) visit to an outlet in Vegas, we headed for our campsite for this night – a spot past Death Valley. While we drove towards the valley, we saw that we would not be able to reach through the valley before sundown. Eager to experience this special place, we figured we'd camp in the valley, and drive to Yosemite early next morning.
We started to descend into Death Valley at sundown. The heat was rising for what seemed like every meter we descended. We stumbled upon Texas Springs Campgrounds, almost empty, and decided to stay there the night. The time was 21:00, it was pitch black, and 32C. It did not take many minutes before some of us ran around in only boxer briefs, while others resorted to boxers and shorts. Charcoal was lit, beers were consumed and perfectly grilled beefs were eaten. Just wow. To top of the evening, we saw the latest Game Of Thrones-episode in the car before we went to sleep.
Early next morning (actually a little before what we define as morning) Sjur and Jonas went for a hike with the cameras to catch the first glimpse of sunrise. The time was around 05:00, 25C in the car, and 21C outside. Pictures were taken, breathtaking scenery were enjoyed. When they got back to the car around an hour later, the heat had waken the rest of the gang up. We drove out of the camping grounds around 07:00.

Fun fact: We figured out that the camp grounds would be closed for the summer in a few days, as it gets to hot to camp there, unprotected from the burning sun. No worries, as El Monte (RV rental company) prohibits access to Death Valley during the summer months.
Yosemite – part one
We drove towards a spot in Yosemite we'd picket out a few nights earlier, satisfied that we'd gotten ourself on the road long before noon. We even talked about that we would get there really early, and we'd be able to take long hikes in the mountains that afternoon. After a few hours driving, high up in a mountain pass, we saw some strange rock formations near a lake, and decided to stop. I turned out to be "Tufa"  at the banks of Mono Lake. While Marius, Sjur and Jonas went to take a closer look, Mats and Svenn waited in the car.

There Mats discovered the crucial fact that a lot of the mountain passes in Yosemite are only accessable during summer. This causing us a huge detour to be able to get into the areas in Yosemite that we wanted to see. We decided to turn the day from "drive a little, chill a lot" to "drive a lot, chill close to nothing". As of speaking we've driven 10 hours today, and are still going strong. We will end up at a Walmart store in Sonora later tonight, and leave early into Yosemite tomorrow morning.
Good Night from the RV, and good morning to our beloved Norwegian readers.
PS: All photos taken by Jonas, Sjur probably has better shots, and some tasty pictures of the Death Valley barbecue as well, but he is currently driving 🙂